Информация: Ваш браузер не принимает cookies. Если Вы хотите положить товары в Вашу тележку и купить их, то Вам необходимо включить cookies.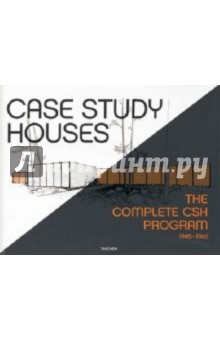 ISBN: 978-3-8365-1021-9-
Издательство: Taschen
Год: 2009
Автор: Smith Elizabeth
The Case Study House program (1945-66) was an exceptional, innovative event in the history of American architecture and remains to this day unique. The program, which concentrated on the Los Angeles area and oversaw the design of 36 prototype homes, sought to make available plans for modern residences that could be easily and cheaply constructed during the postwar building boom. The program's chief motivating force was Arts & Architecture editor John Entenza, a champion of modernism who had all the right connections to attract some of architecture's greatest talents, such as Richard Neutra, Charles and Ray Eames, and Eero Saarinen. Highly experimental, the program generated houses that were designed to re-define the modern home, and thus had a pronounced influence on architecture-American and international-both during the program's existence and even to this day. TASCHEN brings you a monumental retrospective of the entire program with comprehensive documentation, brilliant photographs from the period and, for the houses still in existence, contemporary photos, as well as extensive floor plans and sketches. About the editor: Peter Gossel runs a practice for the design of museums and exhibitions. He is the editor of TASCHEN's monographs on Julius Shulman, R. M. Schindler, John Lautner and Richard Neutra, as well as the editor of the Basic Architecture Series. About the photographer: A resident of Los Angeles since 1920, Julius Shulman documented modernist architecture in Southern California and across the globe for nearly eight decades. His images of Pierre Koenig's Case Study House No. 22 (1960) in Los Angeles and Richard J. Neutra's Kaufmann House (1947) in Palm Springs are among the most recognizable and iconic architectural photographs of the 20th century. Shulman's interest in photography developed into a career when he photographed Neutra's Kun Residence in Los Angeles with his Kodak Vestpocket camera in 1936. Neutra admired young Shulman's images and continued to commission his work. Other leading architects of the time followed suit, as did hundreds of magazines, newspapers, and book publishers. Shulman's numerous awards include the Architectural Photography Medal from the American Institute of Architects (1969), a lifetime achievement award from the International Center of Photography in New York (1998), and honorary doctorates from various academic institutions. He died on July 15, 2009 at the age of 98. About the author: Elizabeth A. T. Smith is the former Chief Curator and Deputy Director for programs at the Museum of Contemporary Art in Chicago. Previously a curator at MOCA Los Angeles, where she organized "Blueprints for Modern Living: History and Legacy of the Case Study Houses," Smith has taught at the University of Southern California and the School of the Art Institute in Chicago. She has curated numerous exhibitions and published widely on various aspects of contemporary art and architecture. Издание на английском, французском и немецком языках.
Мнения покупателей:
Еще нет мнений об этом товаре.
Пожалуйста, войдите, чтобы оставить свое мнение.